Reviews
"Just to say my order arrived today - it is GORGEOUS! Really pleased with it.  It's a gift for my boyfriend - we were admiring your work on Instagram the other day and I couldn't resist buying something.  I can't wait to give it to him. Thank you!" --Erika
"Thanks Scott and Andrea for making such fabulous pieces, and it was so beautifully packaged! I keep looking at it--it just makes me smile having beautiful glass around the house." --Kim
"I shared your GIVEAWAY post with my sister and she loved the vase so much she said she was going to buy one. So I bought it for her instead. I may now also buy one for myself as they are so beautiful." -- Patricia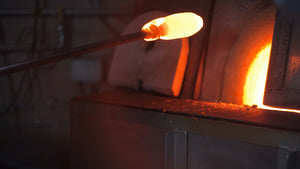 Melt it
The raw materials of glass--roughly 70% sand and 20% soda ash, and 10% other chemicals to enhance clarity and workability--are melted overnight in our furnace at 1260°C. A piece is started by gathering clear glass on the end of a blowing iron, with additional gathers added to make larger pieces.
Make it
The stripes in our pieces (known as filigrana) are created by drawing out thin canes of white glass that are joined together to make a striped bubble. Once the pattern is established, the canes are twisted in the blowing process to make a spiral pattern and the form of the piece is made through a combination of blowing, stretching and spinning the molten glass.
Finish it
After the piece is made, it goes through a controlled cooling cycle in our kilns that can take up to 10 hours. The piece is then finished by grinding and polishing the bottom of the piece so that it sits perfectly steady. After it is inspected for any flaws or defects, it is ready for packing and shipping.